Wictor | Characters
Gender:
Height: 196cm (120cm)
Created: December 14th, 2017

| | | |
| --- | --- | --- |
| Creativity | | 6.6 |
| Quality | | 6.7 |
| Entertainment | | 6.9 |
Latest Comics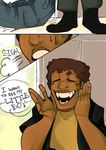 View Wictor's full Comic Archive
Biography
A shadow cat monster with the the ability to turn any parts of his body into cage looking mouths. Sometimes the mouths have teeth, sometimes they don't.
He can eat almost any kind of meat, but prefer live prey, especially anything he can hold a conversation with. He will captures such prey in a mouth cage, for a quick chat before dinner. Unfortunately for him, he's pretty naive and not the sharpest tool in the shed, so his prey often manages to talk their way out of getting eaten.
The saying 'the way to their heart is through their stomach' is definitely true in Wictor's case. If you have food you are considered a friend. He has a pretty big appetite as well and is often on the search for food, this aimless wandering is what brought him to VOID city in the first place.
He's extremely curious and if something pique his interest he will not cease asking questions until his curiosity is satisfied.
There are a lot of things he doesn't understand and has a hard time wrapping his head around, but he will try, in his own way.
He's capable of lifting very heavy loads, but sunlight makes him weak and uncomfortable.
He has an intense fascination with anything that gives off any kind of light and will unconditionally love whatever/whoever is giving off said light.
He rarely stands on his hind legs (196 cm) and prefers walking on all fours (120cm).
When turning a body part into a mouth cage, the skin and flesh of that body part becomes extremely tough. Tough enough to withstand bites, cuts from sharp weapons, punches and gun shots. Still able to catch on fire though and no part of him is magic proof.
Aside from his normal cage powers he has a couple of other transformation powers which he is "borrowing" from his siblings, but he rarely uses them, since the price may be higher than what he's willing to pay.
Latest Topics
Latest Members
Users online