Quint | Characters
Gender: Male
Height: 5' 10"
Created: September 26th, 2010

| | | |
| --- | --- | --- |
| Creativity | | 6.2 |
| Quality | | 6.2 |
| Entertainment | | 6 |
Latest Comics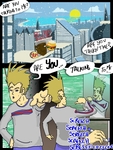 View Quint's full Comic Archive
Biography
AGE: 26
WEIGHT: 156 lbs
BIRTH-DATE: September 26 of Unknown
PHYSIC: Slender
CODENAME: Instrument of Destruction A.K.A Project 01
OCCUPATION: Dining Service and Food Preparation Technician at Crum's Burgers
Quint is unknowingly a genetically engineered weapon in development by the mysterious Dr. Zeken; for complete world domination and conquest, after patenting and mass production. He is completely un-aware of his powers or predestined fate of mass destruction, though, the good Doctor has recently decided to allow for extended real life tests. Things are about to change for this young man. His memories of where he came from and his friends back home have been completely suppressed by events in Void City...
Quint is an honest law abiding citizen who doesn't curse or act unsavory. He does not own any cell phones or computers and hardly understands how to operate such devices. A carefree spirit who doesn't stand idly by when the unjust terrorize the weak. The Broomheaded buffoon loves to watch kung-fu movies and any anime with lots of fighting, of which, have inspired him more than he'll ever know. His favorite comic series "INVINCI-GAL" is not available in Void City, however, the first issue is his only possession he still retains from home. His most favorite time of the day is anytime spent with food or friends, or both preferably. His least favorite time of the day is during work, where-in he must utilize large portions of his attention scattered mind in manual labor for his Boss/Landlord. He tends to shrug off verbal insults, sometimes with unequalled insulting remarks or random comments. He does however have extreme distaste for physical abuse to friends or the innocent; if punched, or assaulted over distance, Quint will return the attack in equal force to the best of his abilities without concern for his own wellbeing. Undeniably gullible. His favorite color is red.
*Abilities*
Quint subconsciously retains any style of fighting he witnesses; able to copycat it within several minutes, if observed intently. He is unable to copy magic abilities and more complicated forms and techniques without extended familiarization of the process or energies required.
His physical abilities are progressively growing as he ages, speed and durability are his most prominent closely fallowed by strength. He can easily lift three hundred pounds, though, he has never had the need to so is unaware currently. Quint can run full tilt at nearly fifty-five miles an hour, though fatigued after only a few minutes. His body however is highly resistant to attacks, currently only able to withstand bullet wounds; the bullets only make it slightly past the skin.
Regeneration, is crude but is developing extremely fast. Skin deep wounds heal within two days as bruises take hours. Broken bones take two weeks at most and lost limbs are able to regrow but very slowly; A hand would take about a year, currently.
Spirit Control/ Exertion: Remembered - Unrefined
Multiple Temporary Self Replication: Locked-Undeveloped-Untapped
Developmental Resistance: Underdeveloped/Slight fire and heat resistance[200 degree max, burns will result]
The Instrument of Destruction's abilities, weaknesses and techniques, may vary in development according to it's outside influences... -Dr. Z
Latest Topics
Latest Members
Users online
116 Guests, 1 User
---
Most Online Today: 165.
Most Online Ever: 1,184 (Jan 13, 2020, 06:21 PM)
---