Niles Khairi | Characters
Sex:
Height: 5'2"
Created: December 17, 2017

| | | |
| --- | --- | --- |
| Creativity | | 6.4 |
| Quality | | 7 |
| Entertainment | | 6.6 |
Latest Comics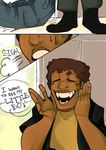 View Niles Khairi 's full Comic Archive
Biography
Niles Khairi/Saab -- 26 y/o -- Polyam Pansexual
BACKSTORY
Magic has never touched Earth/humans (In his story), and humans have never touched magic in ways natural. Niles entered new lands beyond Earth via a method unorthodox, slightly tipping the delicate balance of that universe. An outlier, something which shouldn't exist there, and yet he did nonetheless. To even out the playing field, magic had bequeathed Niles with a new form-- A monster form, which he made into a new identity under the name of "Saab".
Niles transforms is mainly random, but can more-or-less control it as well. The speed of the transformation is typically instant; A blink of an eye.
He disguises himself as two separate beings, Niles & Saab, so that he can be ever more discreet in his research. Niles himself is supposedly humble and modest in being. Saab is intrusive, questioning, but aims to please. Together they pose as mediocre info/power brokers, a boss and their lackey, only doing such for self gain and prominence.
They both like free food, conversing, and long walks on the beach. Somehow roommates with Wictor.
Latest Topics
Latest Members
Users online
43 Guests, 6 Users
---
Most Online Today: 64.
Most Online Ever: 1,050 (Aug 30, 2015, 03:43 AM)
---