Niles Khairi | Characters
Sex:
Height: 5'2"
Created: December 17, 2017

| | | |
| --- | --- | --- |
| Creativity | | 6.4 |
| Quality | | 7 |
| Entertainment | | 6.6 |
Latest Comics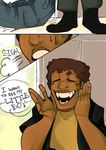 View Niles Khairi 's full Comic Archive
Biography
Niles Khairi/Saab -- 26 y/o -- Polyam Pansexual
BACKSTORY
Niles, through ways unorthodox entered an entirely new universe that contains magic, none of which exists on Earth. Because he's an outlier of that universe, something that should not exist, magic has balanced it by gifting him a monster form, which he identifies as "Saab".
Using the two identities, Niles and Saab form a lackey and boss relationship as information brokers, looking to gain money and perhaps more info on the theory of magic so that he may fix his own disposition and return home.
Has trouble discerning whether he and Saab are the same person, sometimes.
Latest Topics
Latest Members
Users online