Niles Khairi | Characters
Gender: Nonbinary
Height: 5'2"
Created: December 17, 2017

| | | |
| --- | --- | --- |
| Creativity | | 6.4 |
| Quality | | 6.9 |
| Entertainment | | 6.6 |
Latest Comics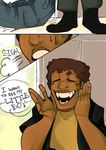 View Niles Khairi 's full Comic Archive
Biography
Niles Khairi/Saab -- 26 y/o -- They/He/She -- African American Palestinian
Niles: Acts much more friendly and sweet, yet following the role of the lackey more prone to be violent and bloody.
Saab: Formal and straight-to-the-point, sassy and rude.
(Note, ultimately this is one person trying to be two different people at once.)
BACKSTORY
Niles, through ways unorthodox, entered an entirely new universe that contains magic. But as an "Outlier" of that universe, something that should not exist, magic has balanced things out by gifting him a monster form, which he identifies as "Saab". But now he's out of that universe, somehow, and in Void!
Using the two identities, Niles and Saab form a lackey and boss relationship as information brokers, looking to gain money and continue focusing on the study of magic.
Has trouble discerning that he and Saab are the same person sometimes.
THE CURRENT STORY
(From oldest comic to latest, *=Not my comic)
Self-Confident: Niles meets his hallucination, 'Smokey', the two reflect on his poor decisions.
Oh Woe is Worm: Niles meets Wictor, they strike up a friendship of sorts.
Φη vs. Niles Khairi: After narrowly avoiding being killed via becoming Saab, he figures following bad romance cases aren't his style. He also, takes a corpse home.
*Harlow Ironlocke vs. Wictor: Harlow broke into Niles' house, and while Niles was quite laid back in reaction, she does hold a certain anger towards this event.
Kot vs. Niles Khairi: Kot stalks Niles for some weeks to understand her capabilities, only to find that Niles has been acting under a 'Normal citizen'-guise for the sake of tricking and calling out the pale man. As Kot vaguely relays his reasons for following Niles, the words persuade Niles quite easily as she remembers her own past, and she considers her options after being subtly pressured into a business acquaintanceship with the other. It is also revealed that Niles has been purchasing and dissecting meta corpses, for research unknown.
Latest Topics
Latest Members
Users online
20 Guests, 3 Users
---
Most Online Today: 114.
Most Online Ever: 1,050 (Aug 30, 2015, 02:43 AM)
---