Niles Khairi | Characters
Gender: Nonbinary
Height: 5'2"
Created: December 17, 2017

| | | |
| --- | --- | --- |
| Creativity | | 6.4 |
| Quality | | 6.9 |
| Entertainment | | 6.6 |
Latest Comics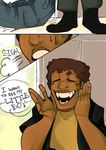 View Niles Khairi 's full Comic Archive
Biography
[NOTE: All comics previous to
Re: Introduction
is now irrelevant to his current character. He has been restarted. Feel free to use the older comics for personality reference, but all is outdated, useless, and should not be referenced in terms of his history now. Just ask instead.]
Stuck in another universe that is far from the Milky Way itself, Niles lives quite aimlessly as he tries to find his proper place in a planet that is full of anything but humans, in a universe where he shouldn't even exist in because humans have never naturally occurred there.
Has a monster form, not given by choice either, but that doesn't really change anything about his predicament.
Likes reading into magic. Can't use magic itself, has no soul, and any/all acts of magic do not work on his being either. Acts rude.
Latest Topics
Latest Members
Users online
87 Guests, 3 Users
---
Most Online Today: 113.
Most Online Ever: 1,050 (Aug 30, 2015, 02:43 AM)
---